Oil Painting, video tutorials, on-line lectures and manuals
---
ESHOP
Many important paintings were painted on wooden boards the canvas as a painting support began to be used later. Canvas is susceptible to damage and low resistant to atmospheric influences. It easily breaks or otherwise mechanically damages. In this regard wood and wooden boards as a base for painting are much suitable. However even wooden boards are not resistant to atmospheric influences without complicated preservatives.
The ACM sandwich panel is made up of two aluminum sheets with a polypropylene core. These materials have a surface of high-quality burned varnish. The surface is adapted for printing and is protected by a foil. Plates are designed for premium applications with a luxurious look. Plates are characterized by stiffness strength and thermoplastics with lower thermal expansion. For sandwich panels the plastic core dampens resonance. Easily solved the ACM is ideal and most durable foundation for your paintings!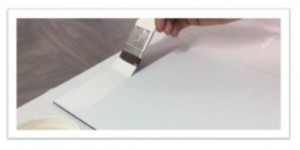 All the panels are prepared by myself. The board has four layers of acrylic gesso and is ready for use immediately. The individual layers of gesso are applied perpendicular to the previous layers. After drying each layer is grounded with smooth sandpaper to achieve a smooth surface with a fine brush pattern. Panels are also available with an oil imprimatura!
If you are interested in panels please do not hesitate to contact me at matejakjan@gmail.com
I will also prepare the size of the panels according to your needs